Return To Blog
Stained Glass Snowflake Class Saturday 10/14 1-4PM
---
By Linda Ehlers - October 9, 2017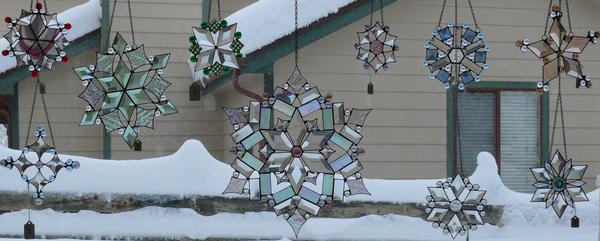 Great day (with the first snow of the season) to think about the beveled snowflake class.  Great for gifts and great to hang year round.  Fall colored snowflakes are selling like hotcakes.
STAINED GLASS BEVELED SNOWFLAKE CLASS
        Saturday October 14th 1-4PM
   $65 (take $5 off for a repeat student)
Cut, foil, solder and assemble a stained glass snowflake suncather using glass, bevels, and globs.  Students without any
glass experience will pick a snowflake that needs no cutting, and will learn how to foil & solder.  Over 18 patterns to choose from.  All
fees includes in the class fee (class fee, materials, and tool rental).  These make great holiday gifts!  Learn how to make one and make many more at home by yourself.