Return To Blog
Business hours and class updates Spring 2020
---
By Linda Ehlers - March 25, 2020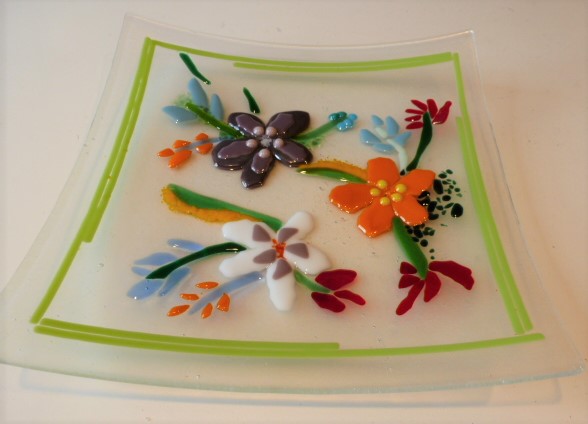 Class Updates
   Due to the Corona Virus outbreak and social distancing requirements, glass classes are cancelled until May 1st.   Due to the possibility of future classes being cancelled,  you can sign up for class and pay the class fee on the first day of class instead of within one week of signing up.  

A new updated class schedule is below.
   If you are a student in any of the cancelled classes (March-April), you have first priority to sign up for one of the classes below if you sign up by March 31st. 
   Any class fees can be used towards:
Another class.

Refund.  (I'll need your mailing address to mail you a refund check.)

Store credit (that can later be used towards classes, supplies, glass, or refund).
Business Hours Update
I am currently not inviting customers/students into my house.  You are welcome to drop off and pick up from my front porch.
I am still available to fire fusing projects and to cut/bend metal frames.  Make an appointment and leave projects on my front porch.
You can also place glass/supply orders and pick up on my front porch.  You can set an appointment, call, email, or text a list of items you'd like to purchase.  Glass is a little harder.  You can tell me manufacture and color numbers and I can see what I have in stock, you can let me pick out the colors for you, or I can text you photos with options for a glass color.  This will all take more time, which most of us have more of right now.  I'll leave the items on my front porch and you can call to pay by credit card, or I'll leave you an envelope to pay by cash or check and you can leave it under my front door matt. Do not lick the envelope!
Glass Classes May – August 2020
*** 4 Week Stained Glass Classes ***
$
89 Beginner / $69 Non-Beginner
(Tools & materials separate.)
 (OR Beginner $179 all inclusive fee - class fee ($89), tool rental ($20), + materials & taxes ($70).)
 (Non-beginners can also pay $19 to attend one day if space available.)
MAY 2020
Tuesday Evening
6:30-8:45PM — May 5, 12, 19, 26                               
Wednesday Morning
10AM-12:15PM – May 6, 13, 20, 27
Thursday Evening
6:30-8:45PM — May 7, 14, 21, 28
JUNE 2020
Monday Evening
6:30-8:45PM — June 8, 15, 22, 29
Tuesday Evening
6:30-8:45PM — June 9, 16, 23, 30                               
Wednesday Morning
10AM-12:15PM – June 10, 17, 24, July 1
*** Glass Fusing One Day Classes ***
 

$60 Beginner / $50 Non-Beginner

(Includes firing fees & tool rental.  Materials separate.)
MAY 2ND    2020 
Saturday Afternoon 2-5 PM
           MAY 16TH   2020
 Saturday Afternoon 2-5 PM
           JUNE 15TH   2020
 Monday Evening 6:30-9:30 PM
*** NO CLASSES JULY OR AUGUST
*     *      *
CLASS NOTES:
  Great Glass Galore is a home based business.  Due to that…
Parking:

Students will park and meet 15 minutes before class at the Rock Creek Pool and Tennis courts (1650 S. Indiana St.) on the southeast corner of Rock Creek Parkway and Indiana Street.  From there, you can walk 5 minutes to my house, or the instructor will drive you over in her car (a red Ford Explorer).

Cats:

  I have cats.  So if you are

allergic to cats

,

don't sign up for class or take precautions.

Stairs:

  Classes are in my garden level basement.  You must be able to go up and down stairs.
CLASS DESCRIPTIONS
GLASS FUSING
All students
:  Make one or more bowls, plates, tiles, clocks, coasters, jewelry and more. The projects are shaped to ceramic or stainless steel molds and Great Glass Galore has over 60 molds available for student use.  The firing fees for all your projects are included in the class fee, but expect to spend $30-$80 on materials. Glass cutting skills are recommended, but not required. Ask about scheduling an optional 1.25 hour glass cutting workshop (cost $20).   System 96 glass is used during the class.  If you decide to make more projects outside of class and don't have a kiln, you can pay Great Glass Galore to fire them.
Beginners: Learn about the materials used in fusing and how to clean and assemble them.  You will also learn a basic firing schedule for a small project, and about the changing properties of glass as it heats and cools.  You will have time to make one large project (up to a 12x12" square or 12" round plate) and several smaller projects.  The 5 week class will also covering using patina to change the color of the solder.


Non-Beginners:

 Just work on projects at your own pace, or learn more details about firing schedules, setting up your own kiln, kiln wash, molds, fiber papers, or other fusing techniques.
STAINED GLASS
Beginners:
 

:

  Make one of over 3 dozens patterns of 15 pieces or less, learning the steps of the copper foil method (cutting, grinding, foiling, soldering, and framing). Try Great Glass Galore tools the 1st week, then purchase or rent tools by the 2nd week.  Also learn how to patina solder in 5 week class.


Non-Beginners:

  Work on whatever you want at your own pace (lamps, boxes, clocks, large windows, fusing, mosaics, stepping stones, or another stained glass panel).  Get added help and tips to advance your stained glass skills and knowledge.  You can also learn the lead came method of stained glass.
Private Lessons: 
Not available at this time.
Workshop Time
:
Not available at this time.
Stay In, Stay Safe, Stay Healthy.