Return To Blog
2021 Glass Fusing Classes
---
By Linda Ehlers - September 14, 2021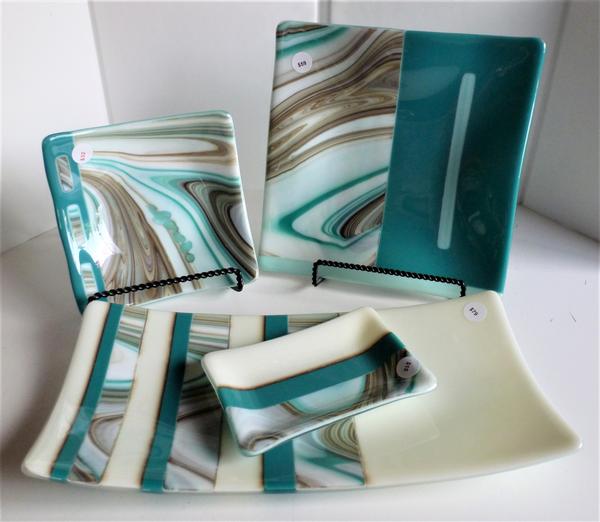 $89 Beginner Fusing Class 2021




Saturday October 16

th

2-5PM




Includes firing fees and tool rental.  Materials separate.




Learn about the materials used in fusing and how to clean and assemble them.  You will also learn a basic firing schedule for a small project fired in a small kiln, and about the changing properties of glass as it heats and cools.  You will also learn how to use a straight edge cutter and some basic hand cutting techniques. You will have time to make one large square or rectangular project

(7x7" candy dish bowl, 8x8"/10x10"/12x12" shallow square slumper plate, or 6x13"/7x14" platter.)  Left over glass can be used to make a 3x3" jewelry dish, 3.5x3.5" ginger plate, or 4x4" coaster.  Expect to spend $15-$40 on materials. 




$45 Non-Beginner Fusing Class 2021
Saturday November 6

th

2:30-4:45PM
Includes tool rental.  Materials and firing fees separate. 




25% off firing fees.




Make one or more bowls, plates, tiles, clocks, coasters, jewelry and more. The projects are shaped to ceramic or stainless steel molds and Great Glass Galore has over 60 molds  available for student use. 

 

Work on projects at your own pace, or learn more details about firing schedules, setting up your own kiln, kiln wash, molds, fiber papers, or other fusing techniques.   Amount you spend on materials and firing fees depends upon on how many projects you make. Glass cutting skills are recommended, but not required






Notes: 




. 

System 96 glass is used during class.  




.  If you decide to make more projects outside of class and don't have a kiln, you can pay Great Glass Galore to fire them.




$20/Hour Non-Beginner Fusing Friday Workshops 2021
Tools, materials and firing fees not included. 
I have a several students who like to come for 2 hours during the daytime on Fridays when I have time.  If you'd like to be on this list to be contacted by email of informal get togethers, let me know.





NOTE:  GGG will be closed September 19-25.



General In Studio Group Class Information
COVID: All students in group classes MUST BE vaccinated and masks may be required. 
Class fee:  50% of class fee is due within one week of registration.  Remainder due first day of session.
50% Class fee deposit is only refundable if you cancel 72 HOURS ahead of the first class.
Missed classes:  Cannot be made up.
Cancelled classes (due to weather or instructor illness) must be made up on the day class is rescheduled by the instructor or within 30 days of the last class of the session. 
Tools and Materials are not included in the class fee unless specified.
Students required to bring own safety glasses:  Great Glass Galore has new safety glass for $5 each.
Students required to wear closed toed shoes:  No sandals or flip flops.  Sorry I don't sell shoes.
2 Hour class plus 15 minutes for cleanup:  Classes are scheduled for 2 hours of class time and 15 minutes for cleanup.  If you are still working on you project 5 minutes into the cleanup time, you will be charged $5 extra for every addition 15 minutes over the 2 hour class time.  Note:  This does not apply to beginners.
Any tools/supplies/glass stored at GGG:  by students will be dispose of after a year of no use.
If you are pregnant or breast feeding:  Do not take any of the stained glass classes.

Great Glass Galore is a home based business.  Due to that…
Parking: Only 4 cars maximum will be allowed to park at my house.  Please park on street in front of my yard (from mailboxes below my driveway to lamp post above my driveway), or 1 car in the left side and one 1 car on the right side of my driveway.   Please do not park on the other side of the street or block the middle bay of my garage.
Class Size:  Is limited to 4-6 students.  With the limit of 4 parked cars, 2 cars would need to park with 2 students commuting together to my house to have a max of 6 students.
Cats:  I have cats.  So if you are allergic to cats, don't sign up for class or take precautions. 
Stairs:  Classes are in my garden level basement.  You must be able to go up and down stairs.
In-Class Supplies:  Each student gets their own grinder, grinder cookie, and Nick's Grinder's Mate.  Each student (or pair coming together) gets their own workbench, Windex, Paper Towels, Alcohol, Cotton balls, ruler, and silver sharpie.  Any used supplies must be cleaned by student using disinfectant wipes at the end of class.  Students will share straight edge cutters and may not be 6 feet apart at all times.