Return To Blog
Great Glass Galore Description
---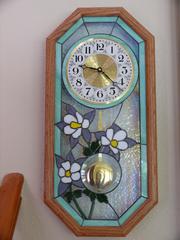 Great Glass Galore is a home based retail stained glass business that offers art glass supplies, glass classes and stained glass custom work along with glass art gifts including fused glass jewelry, fused dishes and stained glass window hangings. 
 
Great Glass Galore has a complete line of stained glass supplies and glass fusing supplies, glass tools, glass pattern books, bevels, lamp bases, and stained glass and system 96 glass for fusing. 
 
Classes available are: stained glass foil, stained glass lead, fusing (glass kiln firing), mosaics, and stepping stones. I also offer one day specialty classes in stained glass beveled snowflake window hangings, and fused glass ornaments.  Kids classes are also available. 
 
The owner, Linda Ehlers, has 29 years of experience, has done custom window as large as 7'x9', ha also taught through the Boulder Valley Life Long Learning program , and has had several students win first or second place in the Denver botanical stained glass show.
 
Great Glass Galore is 12 minutes from Boulder and 20 minutes from Denver.  It is 2 miles west of the Flatiron Crossing mall, and 2 miles from Highway 36.