Return To Blog
Used stained glass tools, supplies & glass
---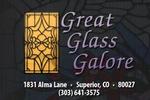 One of my best customers is no longer able to do stained glass for health reasons and is also down sizing.  She is looking to sell all of her stained glass tools, supplies, and glass from the past 15 years or so. 

GLASS:  Contact Great Glass Galore  I have bought most of the stained glass and have it available in my shop for $2-5 per pound.  I only have half the glass unloaded from  my truck, but it should be all unloaded by this weekend.  You can pick through it now or wait for all of it to be unloaded.  There is a lot of yellow, oranges, and reds.  So some great deals. Note:  I have a cold and my thumb surgery has been moved out to next week either Tuesday or Friday. 

TOOLS & SUPPLIES:  Contact Karen at 303-452-6419, 431 W. 152nd Ave., Broomfield - Just north of the Orchard Town Center.  Karen will be having a garage sale May 15th and 16th from 8AM-2PM.  You can wait until then to see what she has, or call her and check out her supplies ahead of time.  She has grinders, cutters, one of Brian's large straight edge cutters, oak frames, oak pendulum clock frame, clock works, jewerly boxes, vase caps, scrap glass and lots more.  Enjoy!