Saturday October 8th Beveled Snowflake Class changed to
October 12th.
Beveled Snowflake Class
(Project In A Day)
$40 (or $35 for repeat students)
(Includes tool rental.  Materials $15-30.)

OCTOBER 12th   Wedensday 6:30-9:30
NOVEMBER 12th   Saturday 1-4 PM
DECEMBER 10th   Saturday 1-4 PM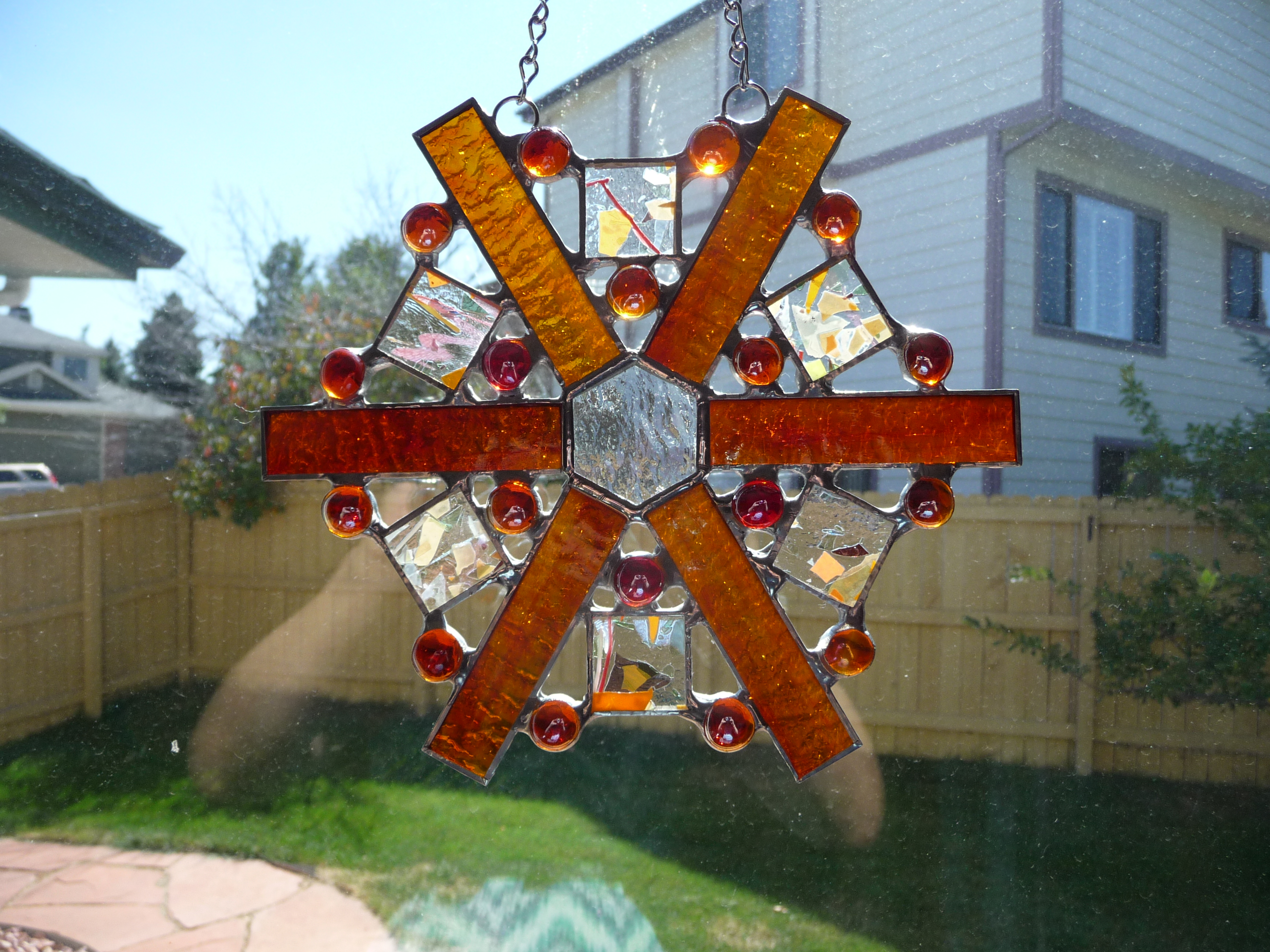 *           *               *
October 2016 4 week stained glass classes start next week, October 4 and 5th
Stained Glass Classes 2016
(4 weeks)
Tuesday Evening
6:30-8:45PM — October 4, 11, 18, 25
Wednesday Morning
10AM-12:15PM — October 5, 12, 19, 26
(No classes the week of Thanksgiving November 22nd and 23rd.)
Tuesday Evening
6:30-8:45PM — November 1, 8, 15, 29
Wednesday Morning
10AM-12:15PM — November 2, 9, 16, 30
(Only 3 weeks.  Drop in or make up classes.)
Tuesday Evening
6:30-8:45PM — December 6, 13, 20
Wednesday Morning
10AM-12:15PM — December 7, 14, 21
Beveled Snowflake Class Description
Cut, foil, solder and assemble a snowflake using glass, bevels, and globs.  Choose from ever a dozen patterns.  Students without any glass experience will pick a snowflake that needs no cutting, and will learn how to foil and solder it.  Expect to spend $15-$30 on materials.  Tool rental included. These make great holiday gifts!  Learn how to make one, and make many more at home by yourself.
 
Stained GlassClass Description

Beginners:  Make 1 project of 15 pieces or less learning all the steps of the copper foil method (cutting, grinding, fitting, foiling, soldering, and framing). Try Great Glass Galore tools the 1st week, then purchase or rent tools by the 2nd week.
Non-Beginners:  Work on whatever you want at your own pace.  Some of the different types of projects you can work on are lamps, boxes, clocks, large windows, fusing, mosaics, stepping stones, beveled snowflakes, or another stained glass panel.
NOTE: Materials and tools NOT INCLUDED in class fee. Expect to spend $35-60 on materials. Rent in-class tools for $20 or purchase tools for $106-188. Beginners have the option of paying an all inclusive fee (class fee, tool rental, materials, and taxes.) of $175. Please see our Supplies Page for more information on tool prices and required tools.