Class Updates
Due to the Covid 19

I have decided to cancel scheduled classes until September 2020.  Right now, I am not prepared to social distance in my classroom, or with the carpooling to my house.  I have a plan in place for September, if need be, of smaller class sizes and Plexiglas partitions along with the option to doing on-line tutorials and classes. 
If the virus lets up over the summer, I will offer some drop-in workshop times for both stained glass and fused glass students with whatever you want to work or get help on.  I will send out an email if this happens.
If you have currently paid for a cancelled class, you are welcome to get a refund on your class fee, or credit that can be used for later classes, workshop time, supplies, or labor for me to help you with a project. 
Business Hours Update
Boulder County has currently extended the "Stay At Home" order through May 8th , 2020.  So I am currently not inviting customers into my house.  You are welcome to drop off projects to be fired, and pick up purchased supplies/glass from my front porch.  Once the "Stay At Home" order is lifted, I plan to allow access to customers in my glass supply room on the main floor of my house as long as customers wear a mask.
For glass purchases, I am texting photos of glass in stock to customers and the customer can then decide what colors and how much to purchase.
I am also now taking payments through VENMO for your convenience.
10% Off Tools
Through May 31st, 2020
At this time, I encourage you to work from home, and am offering 10% off on tools till the end of May so you can build your workshop.  The following tools are on sale:
   Brian's Straight Edge Cutter - $145

Sale $130.50

(Not in stock.  Made to order.)
Glastar Superstar II Grinder - $179

Sale $161.10
   Glastar Eye Shield Support - $18

Sale $16.20
   Glastar Mini Grinding Table - $19

Sale $17.10
   Hakko FX-601 Soldering Iron - $82

Sale $73.80
   Choice Soldering Iron - $25

Sale $22.50
   Choice Rheostat - $25

Sale $22.50
   Choice Iron Stand - $17

Sale $15.30
   Choice Running Pliers - $10

Sale $9
   Choice Grozing Pliers - $9

Sale $8.10
   Fanout Breaking and Grozing Pliers - $27

Sale $24.30
   Bench Brush - $8

Sale $7.20
   Glass Cutters  $26-$45

Sale $23.40-$40.50
Fused Glass "For Sale" Gallery Update
With Mother's Day coming up, class art would make a great gift.  See what's available on my website by clicking on "For Sale" towards the top of my website.  Then click on any option in the pull down menu.  Move your cursor over the item to get price and size.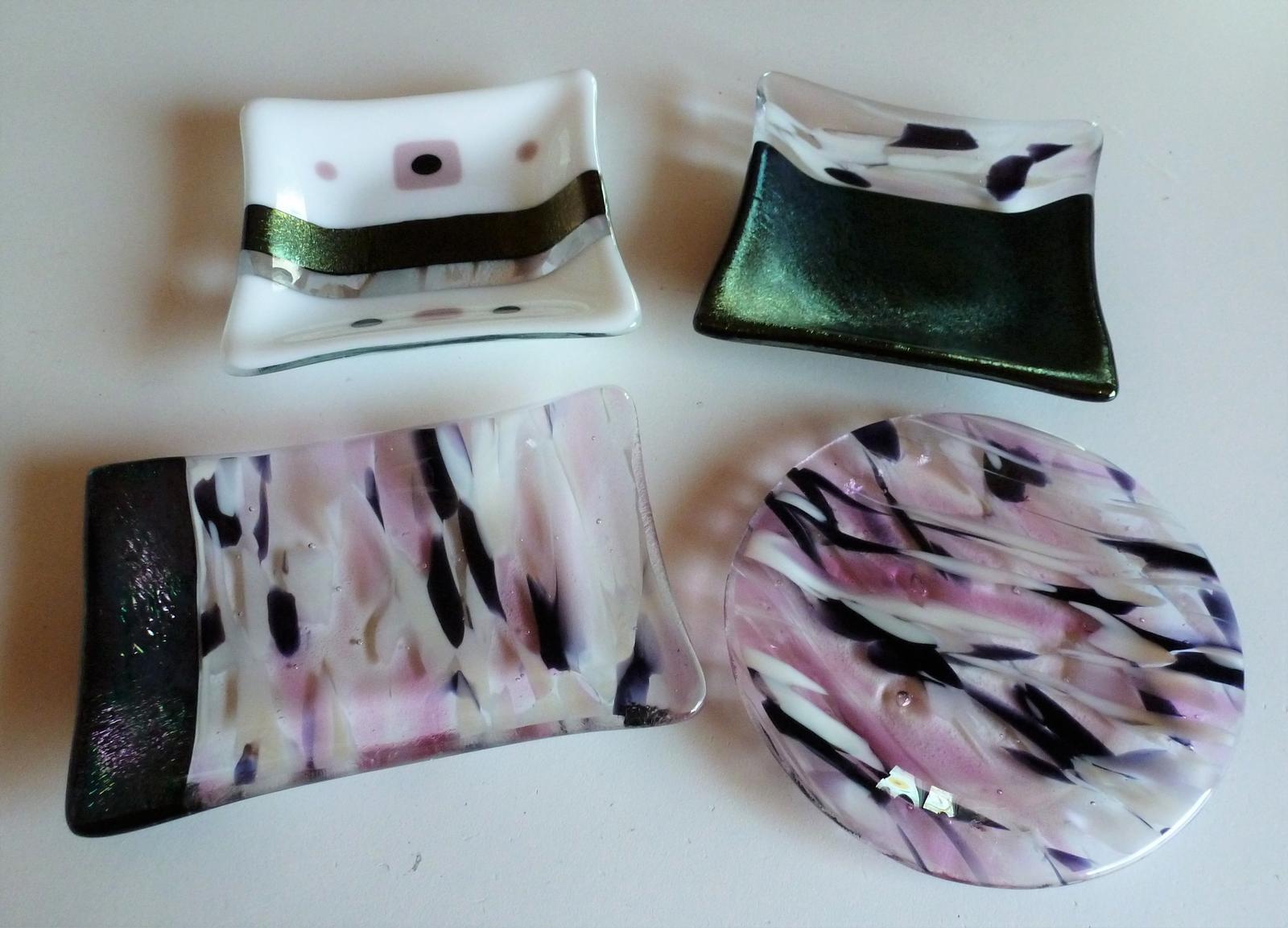 Black Iridized / Pink / White
small fused glass dishes - 50% off
Regularly $15 each. 
Sale $7.50 each
Get Help
I am available for help via text, phone, email, or the Duo App.
For $36/hour I can help you with any part of your stained glass projects:
-Jig Making
-Pattern Making
-Metal Framing (Custom Wood Frames in cherry, maple, oak, and walnut can be ordered)
-Straight Edge Cutting
-Cutting
-Foiling
-Soldering
-Patinaing
Kiln Firing: I have a  separate fee sheet for kiln firing.  Please request a copy.
Glass repairs: costs $48/hour plus materials.  It takes roughly one hour to repair one broken piece.  Less per piece if broken pieces are side by side.  Note: I no longer do lead came repairs, only the copper foil/solder technique.
Custom Window Orders:  I am booked out with custom window orders till September 2020, but have started a list of fall customers.
Anything else you need help on that you can think of, just give me a shout.
Stay In, Stay Safe, Stay Healthy. 

            

HAPPY SPRING!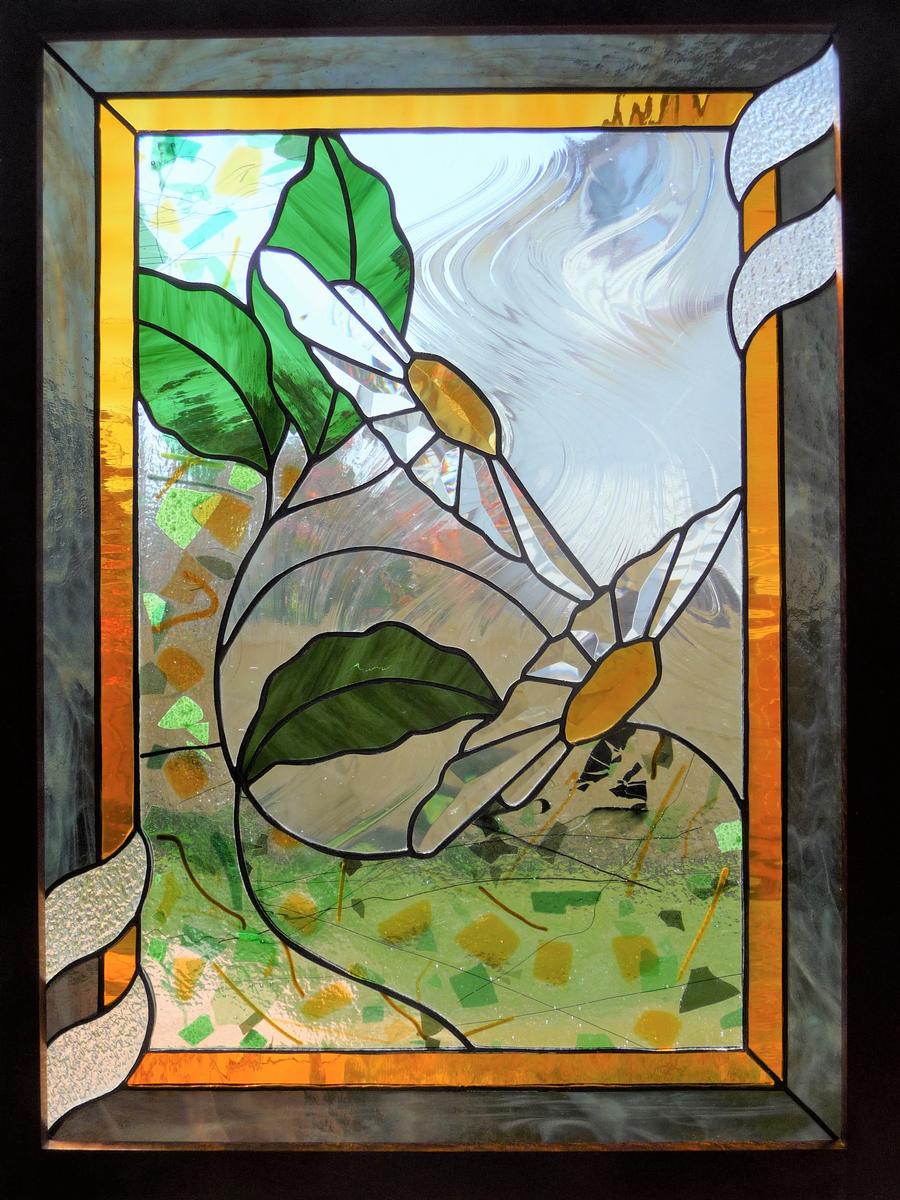 Linda Ehlers,
Owner/Teacher/Artist
Great Glass Galore

Great Glass Galore is your full service home based art glass store offering stained glass supplies, art glass supplies, fused glass supplies, stained glass tools, stained glass, stained glass classes, fused glass classes (glass fusion classes, hot glass classes, or glass kiln classes), art glass classes, custom stained glass panels, glass cabinets, glass gifts (fused jewelry, glass jewelry, fused bowls, fused dishes, fused plates, stained glass hangings, stained glass windows, stained glass panels), glass instructions, and stained glass repair.  Business hours by appointment.  Call, text, or click on "Set Appointment" at top of website to set an appointment.  Also, check upper right hand corner of website for closed dates.