Return To Blog
Beginner Stained Glass Video Class
---
By Linda Ehlers - September 9, 2020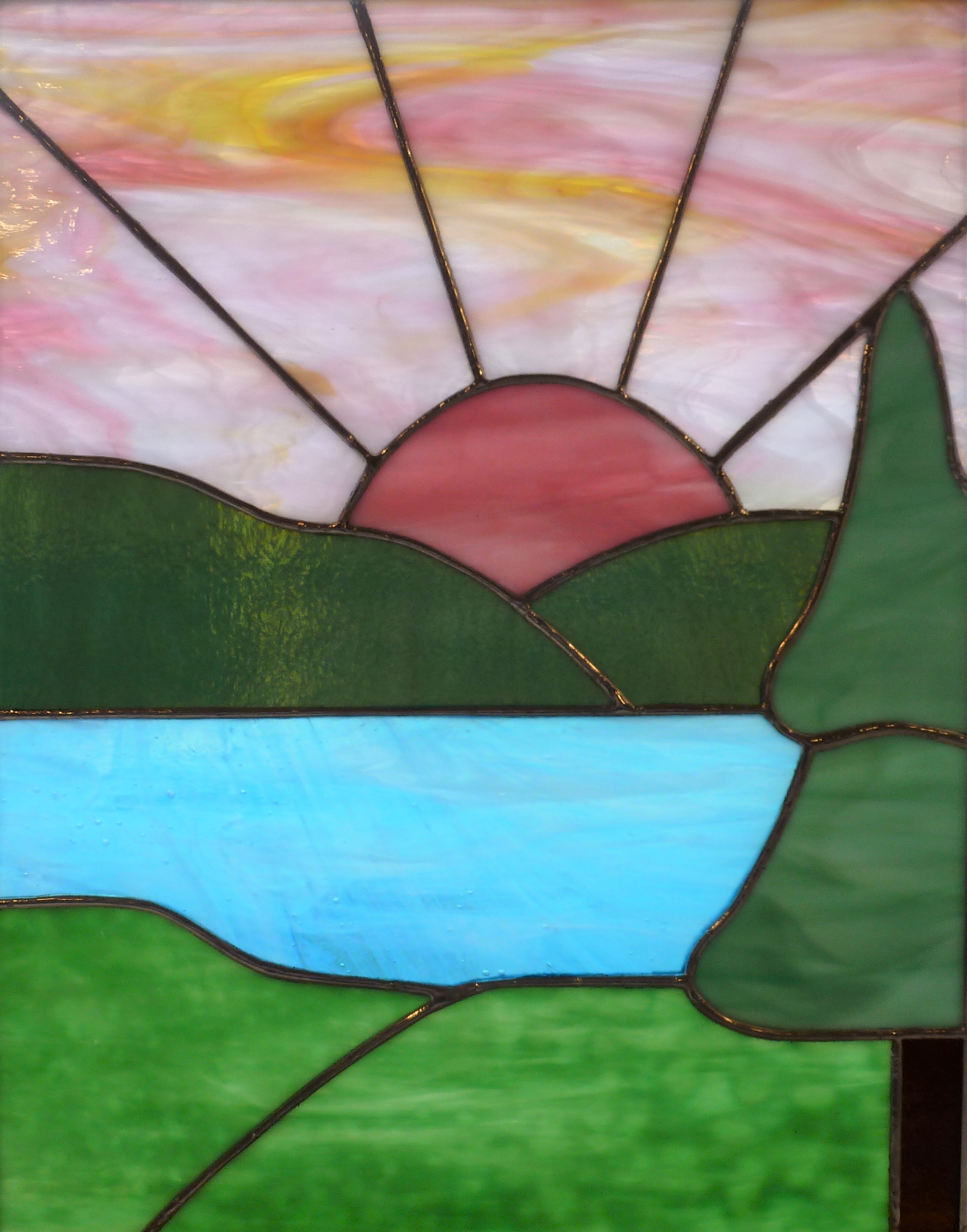 7 Part Beginner Stained Glass Class Videos
$70 for one month access,
$85 for two months, or $95 for three months
($50/$60/$65 for students that have taken Great Glass Galores's beginner stained glass class)
Note:  These videos are brand new and just completed this summer.  These are more descriptive and complete than previous videos shown in the in person beginner stained glass class.

VIDEOS
Learn how to do stained glass at home by following along with the Great Glass Galore beginner stained glass 7 part instructional videos. Owner/Instructor, Linda Ehlers, guides you through the process of making an 11x14" fifteen piece stained glass copper foil project (sun/lake/grass/mountains/tree scene).  These videos cover pattern making, jig making, cutting, grinding, fitting, foiling, soldering, metal framing, adding hooks, applying patina, and cleaning. 
- YouTube: The 7 part (11 videos-227 minutes) series is available on YouTube.  You'll need to use your email to create a YouTube account.  To keep the videos secure,  they are private and you'll receive one email for each video in the series except the intro (10 emails).  Part 1 - Intro is public, and you can see that by going directly to the Great Glass Galore YouTube channel.
- Memoery Stick: The 11 videos are also available on an encrypted memory stick that you can pick up or have mailed to your house.   There is a $10 memory stick deposit fee that is refunded when the memory stick is returned.  Postage is also added on if mailed.
HELP

For help, call or text Linda with questions for free, call on the "Duo" App at a cost of $24/hour, or schedule private lesson time at $36 for one person or $48 for two.



TOOLS

:Â  $315-$450 (plus Tax)


You will need to have your own tools/home studio set up to do this project at home.  A list of required tools and their cost is provided.   You can buy these through Great Glass Galore or obtain them on your own. 

10% discount

 for items 1-10 if all 10 items purchased at Great Glass Galore through December 31st, 2020.
MATERIALS
: Â $75
(Includes Tax)
You can pay one materials fee  (or obtain your own supplies), which covers all the materials for the 11x14" mountain/sun scene shown in the videos.  This includes glass, copper foil, solder, flux, framing, hooks, chain, and glass polish. (Note:  Windex, 91% Alcohol, and patina not provided.)  A list of materials needed is also provided with the tools list.  You can stop in the shop and pick out glass for your project or have Linda pick it out for you.

*  The tools, materials, and supply list for this class can be downloaded on the Stained Glass Classes page of  the Great Glass Galore website.
(Click on "Classes" to get a pull down menu, then click on "Stained Glass Classes" in the pull down menu, then click on "here" below the "Tools" section.)



       Beginner Video Class Pattern
***************************************
PRIVATE LESSONS:
Are now available.  $36/hour for one person or $48/hour for two people.
STORE HOURS:
Open by appointment only.
 

Only 2 people from the same party allowed in the supply room at a time.  Masks required.  Please hand sanitize before or upon coming into the shop.  Thanks.
*******************************
Great Glass Galore is your full service home based art glass store offering stained glass supplies, art glass supplies, fused glass supplies, stained glass tools, stained glass, stained glass classes, fused glass classes (glass fusion classes, hot glass classes, or glass kiln classes), art glass classes, custom stained glass panels, glass cabinets, glass gifts (fused jewelry, glass jewelry, fused bowls, fused dishes, fused plates, stained glass hangings, stained glass windows, stained glass panels), glass instructions, and stained glass repair.  Business hours by appointment.  Call, text, or click on "Set Appointment" at top of website to set an appointment.  Also, check upper right hand corner of website on your computer for closed dates.