Great Glass Galore Closed June 15 - July 15, 2021
Note my summer hours have changed due to a major surgery I am having on June 15th.  I also am not sure what my hours will be for the rest of the summer, but I will send out an email/blog as soon as I know and you can find the latest closed hours in the upper right hand corner of my website.  Because of this, I have also pushed out group class start dates to November 2021.  I've also made public my snowflake and beginner stained glass cutting class on my
Great Glass Galore
YouTube channel and plan to release more videos this year.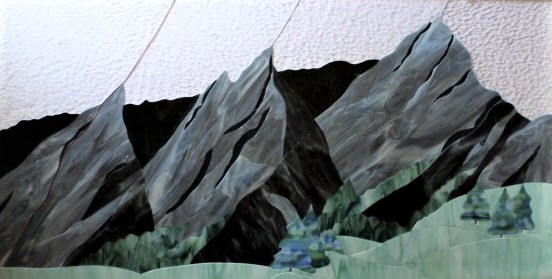 Gray FlatIrons Consignment Piece
2x4'Â Glass Cut Phase
Consignment Stained Glass Orders
I am no longer taking stained glass consignment orders, but am still doing copper foil/solder method stained glass repairs.  (Note:  I am no longer doing stained glass lead came repairs.)  This past year I've been crazy busy with consignment orders and would now like to spend some time working on my own projects.  Thus, I am no longer taking orders and would like to give out a list of artists who do consignement orders and pass this on to customers that contact me.  If you'd like to be on this list, please give me the following info:
.  Name
.  Phone #
.  Email
.  Any websites or social media accounts where your work is displayed.
.  What type of work you do.  (Stained glass-lead came, stained glass-copper foil, mosaics, fusing, repairs, large windows, window installs, framing etc.)
.  Bio (Years of experience, years in business, eduction, work goals, etc.)
Bernie Stained Glass For Sale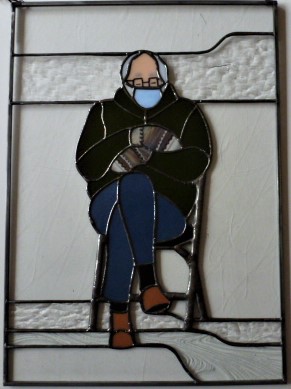 11x14" zinc frame $295
Happy Holidays and Happy Summer!
Linda Ehlers
Owner, Great Glass Galore
Great Glass Galore is your full service home based art glass store offering stained glass supplies, art glass supplies, fused glass supplies, stained glass tools, stained glass, stained glass classes, fused glass classes (glass fusion classes, hot glass classes, or glass kiln classes), art glass classes, glass cabinets, glass gifts (fused jewelry, glass jewelry, fused bowls, fused dishes, fused plates, stained glass hangings, stained glass windows, stained glass panels), glass instructions, and stained glass repair.  Business hours by appointment.  Call, text, or click on "Set Appointment" at top of website to set an appointment.  Also, check upper right hand corner of website on your computer for closed dates.
NOTE:  I am currently not taking consignment orders.  Please see the "For Sale" pages of my website to see what finished glass items are available.
Great Glass Galore
accepts Visa, MC, Discover, Cash, Check, and Venmo payments.