Return To Blog
FALL 2022 Glass Fusing Classes
---
By Linda Ehlers - August 18, 2022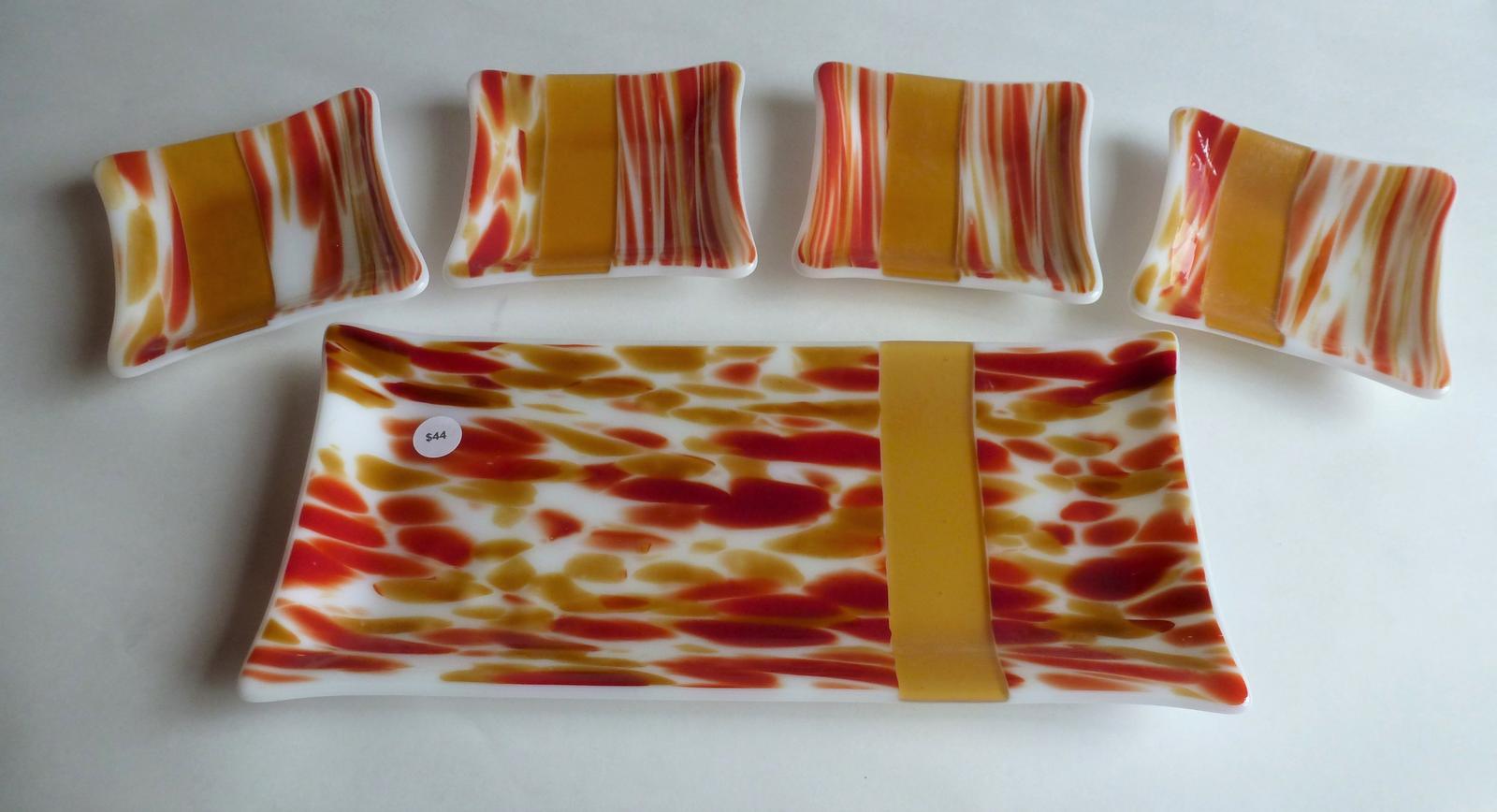 *** 1 Day Fusing Glass Classes ***
BEGINNER FUSING GLASS CLASS - $90
(Firing fees included.  Materials not included.)
  50% of class fee ($45) due within one week of registration
     Saturday September 24th: 
2-5PM
     Saturday November 12th: 
2-5PM
NON-BEGINNER FRIDAY FUSING GLASS CLASS - $45
(Firing fees & materials not included.)
  Class fee due day of class
     Friday September 23
rd:Â 
 2-4:30PM
    

Friday November 11th:

2-4:30PM
     Friday December 16th:
2-4:30PM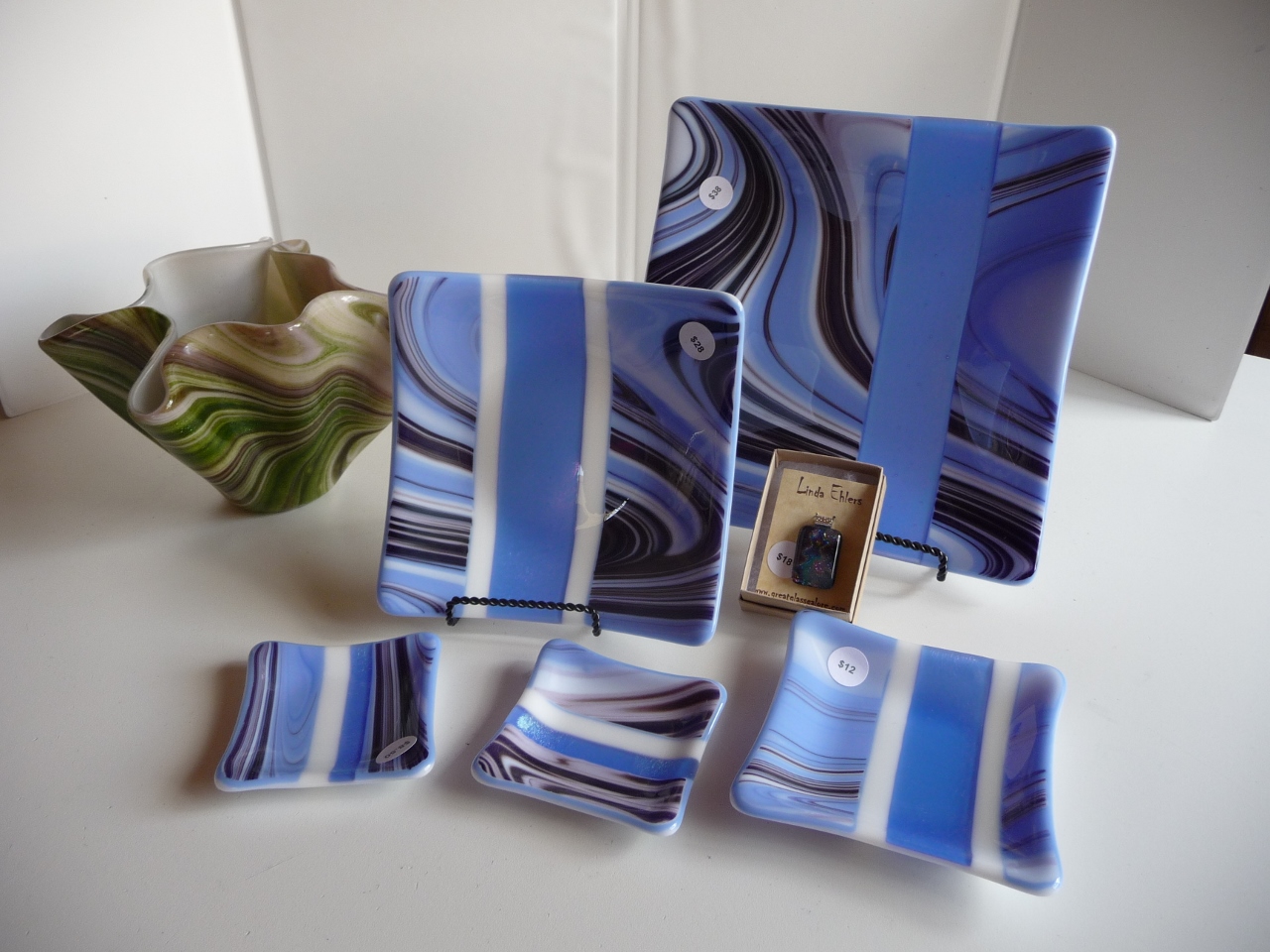 CLASS DESCRIPTIONS
BEGINNER FUSED GLASS
Learn about the materials used in fusing and how to clean and assemble them.  Learn how to use a straight edge cutter to cut the glass and some basic hand cutting techniques.  Students will make one large square or rectangular project (7x7" candy dish, 8x8"/10x10"/12x12" shallow square slumper plate, 6x13"/7x14" rectangular platter, 9x9" rippled bowl, 9x9" wavy bowl, or 9.5x9.5" wavy plate).  Left over glass can be used to make a 3" jewelry dish, 3.5" ginger plate, 4" coaster, or 4.5" slumper.  Expect to spend $15-$40 on materials. Third layer glass adornments are included. Sheet glass not included. Firing fees and tool rental included in the class fee. 
NON-BEGINNER FRIDAY FUSING GLASS
Make one or more bowls, plates, tiles, clocks, coasters, jewelry and more.  The student assembles the projects and the teacher fires them.  The projects are shaped to ceramic or stainless steel molds and Great Glass Galore has over 60 molds available for student use.  Work on projects at your own pace, or learn more details about firing schedules, setting up your own kiln, kiln wash, molds, fiber papers, or other fusing techniques.   The amount you spend on materials and firing fees depends upon how many projects you make.  Glass cutting skills are recommended, but not required.



CLASS RULES:

 


.  COVID:

All students in group classes MUST BE vaccinated and masks required in group classes.


.  Class fee: 

50% of class fee is due within one week of registration.  Remainder due first day of session.
.  50% Class fee deposit is only refundable if you cancel 72 HOURS ahead of the first class.
. Â No makeups for missed classes.
.  Cancelled classes
(due to weather or instructor illness) must be made up on the day class is
rescheduled by the instructor or within 30 days of the last class of the session.
.  Tools and Materials
are not included in the class fee.
.  Students required to bring own safety glasses: 

Great Glass Galore

has new safety glass for $5 each.
.  Students required to wear closed toed shoes:
  No sandals or flip flops.  Sorry I don't sell shoes.
.  2 hour class plus 15 minutes for cleanup: 
Classes are scheduled for 2 hours of class time and 15 minutes for cleanup.  If you are still working on you project 5 minutes into the cleanup time,
you will be charged $5 extra
for every addition 15 minutes over the 2 hour class time.  Note:  This does not apply to beginners.
.  Any tools/supplies/glass stored at GGG: 

by students will be dispose of after a year of no use.
. 
If you are pregnant or breast feeding:
 
Do not take any of the stained glass classes.
. 
Health Concerns:
 
If you have health issues with hand eye coordination, hand/wrist strength, brain injuries
 
 or vision problems, please call and talk to the instructor before signing up for class.
 .  Instructor is very allergic to fragrances.  Please do not wear any perfumes, colognes, aftershaves, essential oils, or other strong fragrances to class.
*Â Â Â Â  *Â Â  Â Â Â *
CLASS NOTES:
 
Great Glass Galore
is a home based business.  Due to that…
.  Parking:
Please park on street in front of my yard (from mailboxes below my driveway to lamp post above my driveway), or in my driveway.   Please do not park on the other side of the street.  Please leave middle bay of my drive way clear unless all other parking options are taken.  Any students signed up with another friend or family member will need to drive together and park 1 car at my house.
.  Class Size:
  Is limited to 5-7 students.
.  Cats:
 
I have cats.  So if you are

allergic to cats

,

don't sign up for class or take precautions.
.  Stairs:
 
Classes are in my garden level basement.  You must be able to go up and down stairs.
.  In-Class Supplies:
  Each student gets their own grinder, grinder cookie, and Nick's Grinder's Mate.  Each student (or pair coming together) gets their own workbench, Windex, Paper Towels, Alcohol, Cotton balls, ruler, and silver sharpie.  Any used supplies must be cleaned by student using disinfectant wipes at the end of class.  Students will share straight edge cutters and may not be 6 feet apart at all times.
.  Appointment to look at glass/supplies:
  Students can make an appointment to come 30 minutes before class to look at glass.  Only one spot available per class.  Students can also schedule an appointment to shop a day or time outside of class time, just not the hour after class.
*Â Â Â Â  *Â Â  Â Â Â *


Business hours

by appointment. 


Call / text 303-641-3575, or click on "Set Appointment" at top of website to set an appointment. 
Also, check main page on website for closed dates. (Closed August 20-27 and September 15-22, 2022.)



Great Glass Galore

accepts Visa, MC, Discover, Cash, Check, and Venmo payments.




Great Glass Galore is your full service home based art glass store offering stained glass supplies, art glass supplies, fused glass supplies, stained glass tools, stained glass, stained glass classes, fused glass classes (glass fusion classes, hot glass classes, or glass kiln classes), art glass classes, glass cabinets, glass gifts (fused jewelry, glass jewelry, fused bowls, fused dishes, fused plates, stained glass hangings, stained glass windows, stained glass panels), glass instructions, and stained glass repair.  GGG is no longer doing custom stained glass.