Beginner Glass Class Fusing Videos
BEGINNER GLASS CLASS FUSING VIDEO on the Great Glass Galore YouTube Channel
Videos:
Fusing is the process of melting glass together in a kiln. This process is most commonly used for making dishes, flat panels, and jewelry. This hour long beginner video introduces you to the materials used in fusing, how to use them (clean, stack and glue), demos building a sample dish project, covers the firing schedule for the dish, and shows you how it is fired in the kiln. It also talks about the properties of the glass as it heats and cools, along with rates of temperature changes through these properties. Very basic cutting techniques are also taught in this class. (For a more in depth cutting lesson, also watch the Beginner Stained Glass Cutting video.)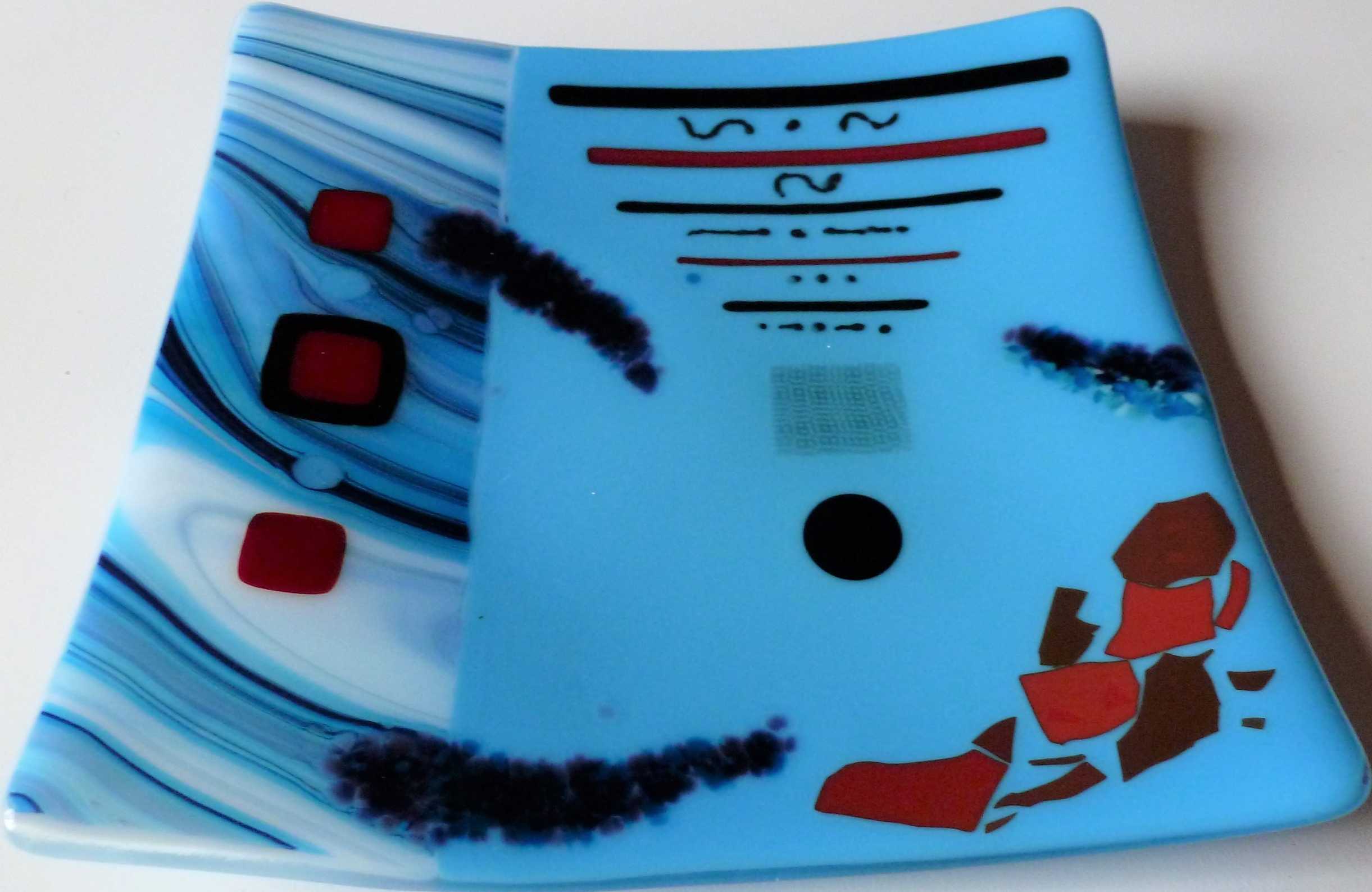 Beginner Fusing Video Project Example
Help/Class Time:
Schedule an hour of private lesson time to work on a project in studio or pick out materials at Great Glass Galore and build (stack and glue) your project at home (then bring it in for firing).
For help, call or text Linda with questions for free, call on the "Duo" App at a cost of $24/hour.
Tools:
None required if building your project at the Great Glass Galore studio. If you want to work at home, you can pick out materials at the studio and Linda will cut your 2 base layers and you will decorate the third layer.
Click here for a list of tools and materials.
Materials:
Material costs depend on the size of your project and the glass colors you pick out. Most students spend $25-$50. Beginners start with a square or rectangular dish. (7x7" candy dish bowl, 8x8"/10x10"/12x12" shallow slumper dish, or 6x13"/7x14" platter.) Left over glass can be used to make a 3x3" jewelry dish, 3.5x3.5" ginger plate, or 4x4" coaster.
Firing Fees:
Pay half price on the firing fee for your first project. (50% off the $14-$33 firing cost for projects listed in the "Materials" section). Jewelry dish, ginger plate, coaster, and jewelry firings are free.
Click here for available mold sizes and firing fees.